Interior design is a multifaceted profession that involves conceptual development, space planning, site inspections, programming, research, communicating with the stakeholders of a project, and construction management.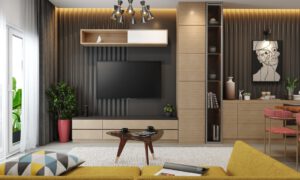 This field is primarily concerned with the aesthetic and functional aspects of man-made spaces. As a part of environmental design, interior design is closely related to architecture.
The ability to design a home or office space that is both beautiful and functional is an important skill in interior design. The right home or office interior can make the difference between a place that feels like a museum and one that functions as the central hub of your comfort, family, and work lives.
A home or office that is built to function is a valuable asset, both to the occupants and to the owner of the property. In a world where housing prices are continually increasing, it is more important than ever to invest in your space and make sure that it is both aesthetically appealing and as functional as possible.
Fortunately, there are several design principles that can be used to create the perfect home or office. These include functionality, flexibility, multi-purpose spaces, and aesthetics.
For example, you could have an all-in-one printer that combines three functions into one device, or you could have a coffee table that doubles as a TV stand. This type of design concept can make your life much easier and more enjoyable.
In addition, a well-designed home or office can increase your property's value on the real estate market. When it comes time to sell, buyers want to know that they will be able to use the space and that it is as functional as it looks.
The best part of all is that you can incorporate this functionality into your current home or office without having to purchase new furniture. In fact, this kind of design can even be accomplished using existing pieces that haven't seen much love yet!
While you are designing your new space, you should keep in mind that form follows function. This theory is often attributed to modernist architecture and industrial design in the 20th century, but it also works well for interior design.
The most important piece of advice for creating a functional interior is to focus on your needs first. This is the most cost-effective way to achieve a home or office that is both beautiful and livable.
Flexibility is one of the key principles that are important to a successful design. It is an attribute that can be applied to any building, regardless of its size or scale. It is an essential part of any interior design and allows a space to adapt to changing needs and requirements as they arise.
A flexible interior design can help a business maintain its usefulness for longer and reduce the risk of extensive renovations, saving time and money while minimizing environmental impact. It can also create a sustainable inner space that will be attractive to users and encourage productivity.
The concept of flexibility dates back to the 1950s and has gained widespread acceptance. It was popularized by Robert Kronenburg and referred to as "mobile architecture."
This type of design has been proven to be successful in a variety of situations, such as office buildings and schools. However, flexibility isn't easy to achieve, and it takes a lot of thought and consideration.
In order to create a flexible interior design, it's crucial to choose furniture that can be easily moved and repositioned. For example, furniture with castors is ideal for this purpose, as it's easy to move and reposition without damaging the floors or other areas.
It's also important to choose movable elements that won't break down and can be recycled. For example, desks with built-in shelving and a lockable drawer can be repurposed as storage space or added to the workplace as needed.
There are many other ways to ensure that a design is flexible and adaptable. The first step is to understand the end-users and their requirements, and then carefully consider how a space will be used in the future.
Another way to ensure that a design is flexible is to consider its aesthetics. The design of a space should be cohesive and coherent so that the overall look is appealing to occupants.
In addition to considering the aforementioned factors, designers should also be mindful of industry influences, as they may affect the types of spaces that are needed. For example, there is a growing trend to give employees flexible work arrangements (where employees can work remotely part- or full-time). This can be an important factor in designing workspaces that will be most beneficial to these employees.
Junk removal services are a business that many individuals and companies alike consider to be a lucrative opportunity. However, you should know a few things about commercial junk removal before hiring a company to haul away your unwanted items. It is important to know how recycling works. Recycling is a good way to conserve resources. There are many types of recyclable materials that you can reuse, including paper, glass, plastic, metal, and batteries. If you need help, visit your local City's website or contact them for details.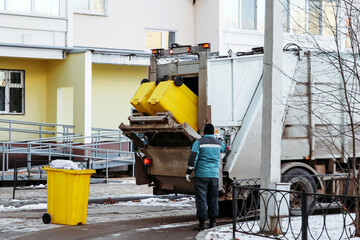 Commercial Junk Removal San Diego can help you move your company, downsize, clean out your building or yard, and more. Call to get a free quote and to discuss your needs. You'll be glad you did. Once you hire a commercial junk removal company, your business's space will be transformed into a clean and clutter-free workspace. This professional service can provide you with the convenience and peace of mind you need to get your business back on track.
The first step is to find out what type of recyclables you can recycle in your area. It would be best if you also learned about the impact of recycling. If you have items in your office that you don't want, consider hiring a professional junk removal service. This will help you eliminate waste and debris and reduce your carbon footprint. Recycling is also a great way to save natural resources. For example, using polystyrene foam in your office can be recycled into new polystyrene foam. Recycling is also a good way to reduce air pollution. Many cities offer single-stream recycling. In addition to being environmentally friendly, it can also help you save money. Most communities provide labeled waste containers for residents to dispose of their recyclables.
The task can be daunting when it comes to sorting out what is and isn't recyclable for commercial junk removal. Fortunately, there are several ways to go about it. First, check out this list of the most common recyclables. You'll find many standard suspects, but a few have been tweaked for a more streamlined process. There is more than one way to recycle a plastic bottle, and the process is more complex than it sounds. Rather than throwing it in the garbage, consider bringing it to your local scrap metal collection center or a nearby shipping shop. The most effective approach is ensuring the plastic is completely clean before putting it in the bin. This will ensure that it will be processed correctly.
If you want to increase the selling price of your commercial property, consider investing in a junk removal business. A service that can clean out your building's trash will be a huge asset for your business for many years. However, you should ensure you know what you're getting into before investing in one. It would be best if you looked into competitors, their pricing plans, and their businesses' success in the market. It's also important to understand how profit margins affect small businesses.
Junk removal businesses have different methods of pricing. Some use time-based pricing, while others utilize volume-based pricing. Time-based pricing is easy to set up and organize, while volume-based pricing requires a learning curve.
When analyzing your competitive environment, consider hiring an independent competitive analyst. This expert can help you understand how other business owners operate, how their businesses find customers, and how they manage their profits. In addition to helping you determine the right pricing strategy, he can also provide helpful opinions on improving your operations.
Hiring a commercial junk removal company can be a lifesaver for business owners in the North area. Whether you are downsizing or moving, a commercial junk removal team can take care of everything from your office to the yard and building. The best part is that you can call and get an estimate before you pay anything.
If you need a junk removal company, ensure they are licensed and insured. Junk removal is regulated in the City, so it's important to hire a licensed company to ensure safety. Many unlicensed companies have damaged property or ripped off people and their belongings. The company should have company insurance so you can get compensated if anything goes wrong. In addition to being licensed, you'll need a reasonable price for their services.
If you own a business, chances are you have a lot of junk lying around. Sometimes it's hard to get rid of things on your own, and commercial junk removal can be a great option to reduce costs and improve aesthetics. These services provide professional haulers to remove unwanted items. For example, they may be able to get rid of extra office furniture and merchandise that you no longer need. If you're a small business, this can be a time-consuming process.