The Importance of Interior Design
Interior design is a multifaceted profession that involves conceptual development, space planning, site inspections, programming, research, communicating with the stakeholders of a project, and construction management.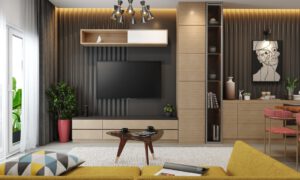 This field is primarily concerned with the aesthetic and functional aspects of man-made spaces. As a part of environmental design, interior design is closely related to architecture.
The ability to design a home or office space that is both beautiful and functional is an important skill in interior design. The right home or office interior can make the difference between a place that feels like a museum and one that functions as the central hub of your comfort, family, and work lives.
A home or office that is built to function is a valuable asset, both to the occupants and to the owner of the property. In a world where housing prices are continually increasing, it is more important than ever to invest in your space and make sure that it is both aesthetically appealing and as functional as possible.
Fortunately, there are several design principles that can be used to create the perfect home or office. These include functionality, flexibility, multi-purpose spaces, and aesthetics.
For example, you could have an all-in-one printer that combines three functions into one device, or you could have a coffee table that doubles as a TV stand. This type of design concept can make your life much easier and more enjoyable.
In addition, a well-designed home or office can increase your property's value on the real estate market. When it comes time to sell, buyers want to know that they will be able to use the space and that it is as functional as it looks.
The best part of all is that you can incorporate this functionality into your current home or office without having to purchase new furniture. In fact, this kind of design can even be accomplished using existing pieces that haven't seen much love yet!
While you are designing your new space, you should keep in mind that form follows function. This theory is often attributed to modernist architecture and industrial design in the 20th century, but it also works well for interior design.
The most important piece of advice for creating a functional interior is to focus on your needs first. This is the most cost-effective way to achieve a home or office that is both beautiful and livable.
Flexibility is one of the key principles that are important to a successful design. It is an attribute that can be applied to any building, regardless of its size or scale. It is an essential part of any interior design and allows a space to adapt to changing needs and requirements as they arise.
A flexible interior design can help a business maintain its usefulness for longer and reduce the risk of extensive renovations, saving time and money while minimizing environmental impact. It can also create a sustainable inner space that will be attractive to users and encourage productivity.
The concept of flexibility dates back to the 1950s and has gained widespread acceptance. It was popularized by Robert Kronenburg and referred to as "mobile architecture."
This type of design has been proven to be successful in a variety of situations, such as office buildings and schools. However, flexibility isn't easy to achieve, and it takes a lot of thought and consideration.
In order to create a flexible interior design, it's crucial to choose furniture that can be easily moved and repositioned. For example, furniture with castors is ideal for this purpose, as it's easy to move and reposition without damaging the floors or other areas.
It's also important to choose movable elements that won't break down and can be recycled. For example, desks with built-in shelving and a lockable drawer can be repurposed as storage space or added to the workplace as needed.
There are many other ways to ensure that a design is flexible and adaptable. The first step is to understand the end-users and their requirements, and then carefully consider how a space will be used in the future.
Another way to ensure that a design is flexible is to consider its aesthetics. The design of a space should be cohesive and coherent so that the overall look is appealing to occupants.
In addition to considering the aforementioned factors, designers should also be mindful of industry influences, as they may affect the types of spaces that are needed. For example, there is a growing trend to give employees flexible work arrangements (where employees can work remotely part- or full-time). This can be an important factor in designing workspaces that will be most beneficial to these employees.